In the early 1880s in the town of Worcester, Massachusetts, Dennis Crowley crafted what he considered to be the world's best-tasting bubble recipe. The savvy bartender thought these 'modern' carbonated beverages would help grow his burgeoning whiskey business. But then, as the Prohibition movement gain movement in New England, Crowley fatefully decided to focus on his sparkling seltzer waters. Four generations later, Polar Seltzer remains owned and operated by the Crowley family.
Polar Seltzer has been crafted with the same care and attention for over 140 years
Back then Polar Seltzer was made with 3 ingredients; locally sourced water, zillions of tiny bubbles to tingle your taste buds, and natural fruit essences for great taste. Today, not much is different, well, except that Polar Seltzer now crafts over 18 different varietals, and no longer delivers by horse and carriage.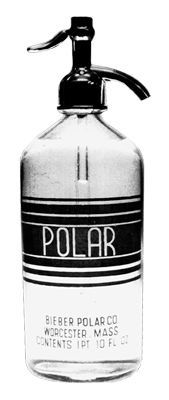 Just Water, Bubbles & Great Taste
Our sparkle sets us apart. We've been perfecting the process of making our signature bubbles, with their long-lasting carbonation and crispness, for over 138 years. The bubbles are created by carefully coaxing Co2 into the water at high pressure and freezing temperatures without exposing the flavors to oxygen. Other people may add sodium or sweeteners to shortcircuit the process – we do not.
The taste of Polar Seltzer is defined by the care we take to source only the best flavors and essences. Our approach is to use only the proprietary combinations of flavors and aromas for depth and complexity. These ingredients are extracted and distilled from natural sources (such as lemon peel, lime, mint, etc) to create the highly concentrated "essences". Relying on copious amounts of these very precious oils, we never skimp when it comes to taste.
Triple-Filtered & Locally Sourced Water
Our water is locally sourced and then triple-filtered with our state-of-the-art process to ensure that each sip is consistent and authentically Polar Seltzer in taste. With no added sodium, fluoride, or funny business, all Polar Seltzers are a healthsmart choice for both refreshment and hydration.
No Sugars
No Artificial Sweeteners
No Sodium
No Carbs
No MSG
Vegan Kosher
Gluten-Free