In the early 1880's, Dennis Crowley began to craft what he considered to be the world's best-tasting bubble recipe for family and friends. The savvy bartender thought that serving these 'new' carbonated beverages would be good for his whiskey business but then as the prohibition movement began to gain steam in New England so did his focus on bottling sparkling seltzers. Four generation later, Polar Seltzer remains owned and operated by Dennis Crowley's family in Worcester, Massachusetts.
Polar Seltzer has been crafted with the same care and attention to detail for over 135 years.
In the beginning, Polar Seltzer was made with 3 ingredients – pure water, zillions of tiny bubbles to tingle your taste buds, and great tasting fruit flavor to satisfy cravings. Not much has changed in the past 135 years. Well, except Polar Seltzer now crafts over 18 different varietals, and we no longer deliver by horse and carriage.
Cheers, and thank you for your interest in Polar Seltzer. Be sure to also try our dry sodas, ginger ale, tonics and heritage products. Learn more, visit PolarBeverages.com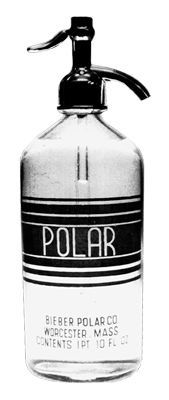 Just Water, Bubbles & Great Taste
No Sugar
No Sweeteners
No Sodium
No Carbs
No MSG
Vegan
Gluten-Free
The sparkle. We've spent 135 years perfecting the process of packing zillions of tiny bubbles into our seltzer for long-lasting carbonation and crispness. The bubbles are created by dissolving Co2 into water at high pressure, at about freezing temperatures, and without any contact with oxygen to protect the taste. Other people add sodium, or mineral salts, or artificial sweeteners during this process – we do not.
Triple-Filtered & Locally Sourced Water
Our water is locally sourced and then triple-filtered with our state-of-the-art process to ensure a consistent and authentic Polar Seltzer taste. NO sodium, fluoride or sugar is added. This is why Polar Seltzer makes for healthsmart hydration.
Great taste is what defines Polar Seltzer. Our secret is that we use only the highest-quality blends of flavors and aromas.  They are extracted from natural sources (such as lemon peel, lime, mint, etc) and then distilled into highly concentrated "essences". Relying on copious amounts of these very precious oils, we never skimp when it comes to taste.
Polar Seltzer is healthsmart refreshment made with clean ingredients