Yes. The magic is real.
Unicorn Kisses Polar Seltzer has returned along with the other mythic characters – Mermaid Songs, Dragon Whispers and Yeti Mischief. To keep things interesting we also invited two new characters to join the menagerie – Pixie Lights and Minotaur Mayhem.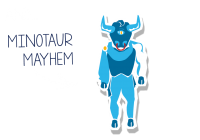 Heading to stores now, Polar SeltzerJR is a collection of impossibly good sparkling seltzers available in junior 8-ounce cans and will be available year round.
The fruity recipes of epic yumminess, without any weirdness like nuts, sugar, or actual mythic creatures, are all natural and calorie-free.